HAND SANITIZER MANUFACTURING PLANT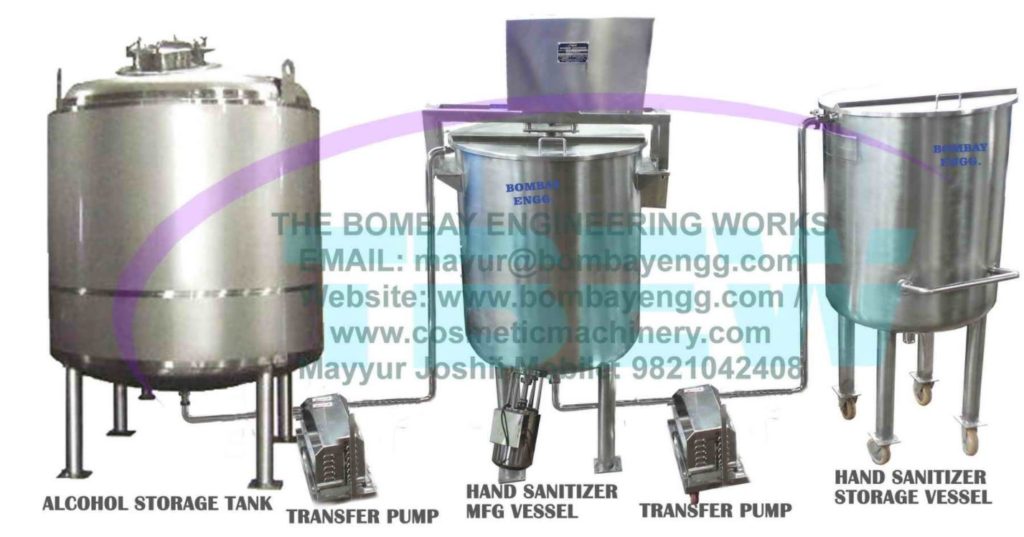 As we know that hand sanitizer is very important in our everyday lives after the breakout of pandemic COVID-19.
"BOMBAY ENGG" manufactures wide range of complete cosmetic machines used to manufacture Hand sanitizer machine/CREAMS / LOTIONS / GELS / SHAVING CREAM / TOOTHPASTE / FACE MASKS / FACE & BODY SCRUBS / SHAMPOO / HAIR OILS / LIPSTICK / MASCERA / KAJAL / LIQUID SINDOOR ETC Manufacturing plants with full range of Filling Machines like TUBE FILLING MACHINE, LIQUID FILLING , CAPPING, LABELING MACHINES, JAR / CONTAINER FILLING MACHINES ETC.
Hand sanitizer manufacturing plant consists of the following
Alcohol Storage Vessel
Transfer Pump to transfer alcohol to mfg vessel
Manufacturing Vessel
Storage Vessel
Transfer Pumps (2 nos – One to transfer sanitizer from mfg vessel to storage vessel and one from storage vessel to filling machine)
Raw material storage tank with transfer pump(Recommended Only if you are planning to go for big size mfg plant eg 2000 ltrs and above it is better you buy this)
Filling line consisting of filling machine, capping machine, labeling machine & ink jet printer for batch coding.
Alcohol storage tanks must be minimum 10 times the capacity of your manufacturing vessel so that you can take at least 10 batches before you refill your alcohol storage tank.  You also need to have a DM / RO water plant. If you don't have this then you need to buy one water heating tank to heat and cool the water which is used in hand sanitizer mfg process. You cannot use raw water.
The process is as under
In mfg vessel take 70 – 80 % isopropyl alcohol, add water 10 – 15 % and add glycerin in some proportion. If you want to make sanitizer in gel form you need to add Carbopol which will thicken the sanitizer into gel form. You can add colour, perfume as required.  The homogenizer will mix the Carbopol into alcohol and water to give uniformity.
Then once the sanitizer is ready transfer it to storage vessel and take it for filling.
(above is only to give idea of how the sanitizer is made it is not exact formula and does not claim the same)
Hand sanitizer mfg plants are available from 50 ltrs to 25000 ltrs capacity as per requirements.
Those who want to make it on small scale can buy only the mfg vessel and Small Semi Automatic filling machine. Labeling and capping can be done manually.
For bigger capacity plants clients can buy the entire manufacturing & filling line setup.
for hand santizer manufacturing machine price contact us on mayur@bombayengg.com or call on 9821042408
Pl contact us for complete turnkey solution.